Joji has been missing since May 5th 2021, 6:16 pm PDT. Last seen Near Flora Drive in Oceanside.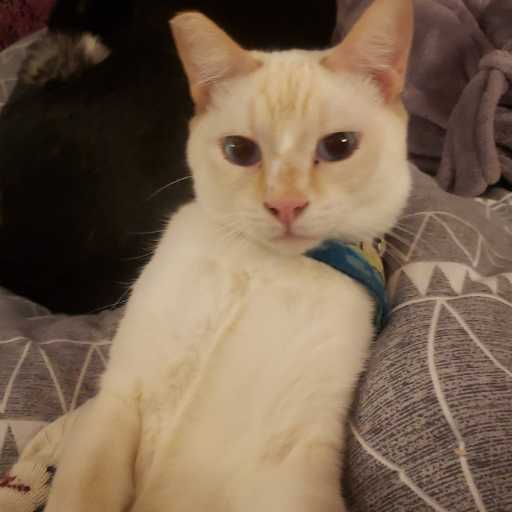 Large Male Siamese
Fur Color: Red,White
Character: Friendly
Remarks: Do not chase: Joji is a former feral, and is somewhat timid when in unknown environments. He will approach for canned food. He is extremely friendly, and can be picked up with ease. If sighted, please contact me as soon as possible so that I can bring a live trap to set up. If caught, Joji is very frienly, and can be held in a small, enclosed area that is secure, and I will drop everything to come pick him up.

Joji is a large flame-point siamese, predominantly white but somewhat cream towards his paws. He has distinct blue eyes. IMPORTANT!!! LEFT EAR IS TIPPED – he was tipped as a feral when he was altered, but he is NOT feral, he is a beloved fur baby.

Joji is altered, and therefore sterile. He is up to date on all vaccinations, his rabies shot, as well as pest preventatives including fleas/ticks/mosquitos/heartworm.

Joji is not on any medications taken daily at this current time.

Joji is microchipped and can be scanned by scanners with old and new technology.

Joji wears a QR tag which can be scanned by any smartphone. This will send me GPS coordinates of where he was scanned. It will also load his pet profile for you, but it wont have anything on it I dont have here.

Joji is on a raw food diet, but can be lured with any commercial canned food. If I am unable to collect him and you must hold him overnight, any canned food will suffice, but he cannot have kibble due to health issues – if no other option, at least moisten kibble thoroughly. (Unlikely scenario, but adding for good measure.)

Please note: Joji and I are very bonded. He went missing for a week in 2020 after someone at a shared airbnb left the door open. It turned out that he was under the house for the duration of that week, and during that time, he had just been waiting for me to come back and rescue him. He did not eat or drink anything during that week and was in awful condition. I had to rebook the airbnb and sneak into a closed off area to even look for him where I found him, and as soon as I said his name, he cried and ran to me. We are immensely bonded, and on top of that, he is very bonded to my otber cat Fenris. His loss would tear our family apart and his absence would be felt in every moment of every day. With this in mind, I am pleading with you to help me find him if ever it becomes necessary, and that if you see or capture him, you do everything in your power to reunite us. Our family depends on the graciousness of other kind humans to keep us together when disasters like going missing strike us. Thank you.
Please help us find Joji by installing the Huan App and joining our network. Joji is wearing a Huan Bluetooth tag – You could be the one who picks up the signal!
Share this post on social media and help Joji return home!